Our Tribe
We're a tribe—those of us who suffer from psoriasis. A tribe that can be recognized by red spots and plaques and a tendency to hide away. Rarely seen at swimming pools. Sometimes smell like tar…lol.
I watched a documentary this week about people who were unable to function as part of the broader "normal" tribe because of some major difference in the way they were.
The creator of the documentary was gay—older—from a time when it was definitely not all right to be gay. His experience lead him to create this quite exceptional "take" on the world of exclusion.
He chose a Down Syndrome, fairly high functioning, young man. A 'small person'–a woman. An autistic boy. And, of course, himself. He showed what happened to each individual as they found themselves and their tribe. How they came to realize that they were not alone.
And that's how I feel about psoriasis. I am part of a global tribe. A family of people all over this world who have this disease and share their trials with psoriasis but also their hope that they might emerge from this challenge victorious.
And although I know that there are problems with the Internet and Facebook, I also appreciate that it has brought people together. People who might have felt isolated. People who can meet others and share their journey.
I don't know if this protocol will last forever. And I don't know what percentage it's helping. There are no statistics. There's not much precedence. Only a doctor in Brazil who works with a variation of our protocol. And has been for decades.
I've never met a doctor who either knows about high dosage D3 and K2mk7. Or the calcium issue. Or the importance of magnesium. And I certainly never met one who recognizes the success of this natural remedy—in spite of all the testimonials.
Try talking to a medical professional about this protocol and you get to experience the raising of a wall of refusal and rejection that is impermeable.
But tribes survive. Our protocol has reached people in Canada, the U.S., Mexico, Australia, New Zealand, China, Vietnam, Turkey, Italy, England, France, India, Saudi Arabia, Madagascar—so many places I will only ever see in books. And they all have the same fears and desperation. The same questions. The same hopes. The same vulnerability. Different cultures. Different colors. Same disease.
We're a tribe. Here to walk each other home. To look at photos bravely posted and not wince or judge or recoil in horror. To rejoice in another's success. Knowing how it feels.
When someone sends me an e-mail or a FB comment to say that their skin has, amazingly, healed I feel such a sense of joy. One more who made it! One more who can spread the word. Even with this protocol we will probably always have this disease. But we can control it rather than helplessly having it control us.
We're a tribe. We hold together. We walk each other home.
Much love from Dakota and her little dog, Lucky
This photo was taken when I got that flare a couple of years after starting the protocol. That's when I realized that products "fortified" with calcium were just as bad as dairy.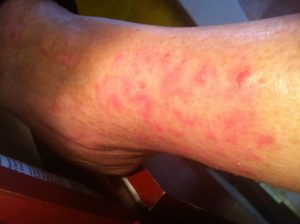 ---
For those of you who are listening to the audio of my book "Rise+Shine" (title to be changed  soon–I'll explain later:) this will make sense. For those who are not listening, it won't:)
THE FOUR LEGS 
Meditation                                
 –antidotes:        agitation/confusion/fear
  –benefit:           grounding                (grounds the heart)
  –feeling:           calm                                 
  –heals:              your Spirit                  
  "In this moment…..I am still / peaceful / safe."
                                                                                                             [BE STILL]
Compassion                          
   –antidotes:        judgment/indifference/hatred
  –benefit:           opening                       (opens the heart)
  –feeling:          connected                          
  –heals:              your Energy/Aura  
"In this moment…..I am open / connected / radiant."
                                                                                        [HEART TO HEART]   
Forgiveness          
     –antidotes:       guilt/anger/resentment
   –benefit:          purifying                 (purifies the heart) 
   –feeling:           liberated                          
   –heals:              your Body                
"In this moment…..I am forgiven / forgiving / healed."
                                                                                                       [LET IT GO]
4.Gratitude
   –antidotes:   envy/self-pity/depression
   –benefit:        uplifting                         (lifts the heart) 
   –feeling:        joyful
    –heals:          your mind 
"In this moment…..I am grateful/receiving/kind."     
                                                                                              [THANK YOU]