2020 The Year of Clear Vision
And clear skin!
Wow! Time just flew by and here we are already in the new year. The past month or so have been challenging as I got a seriousstomach bug (e-coli from Romain lettuce from Salinas, Ca.) There had been a recall on the product but my grocery store had apparently ignored it.
So, I am avoiding all raw veggies. And since doing that my stomach has been better than it has been for the past couple of years.
I did that experiment with the AlgaeCal (calcium supplement made from algae) but I stopped after a couple of weeks because I got a bunch of little spots. Weird, they were so small you couldn't really see them–but I could feel them. I may try again later with this product.
It took a while to get my skin back to 99% clear status but it got there eventually. That's the good news about this protocol. I can try something and if it creates a problem I can reverse a flare. That's such a relief.
I still remember all those years of watching my skin get worse and worse until I had to go to the clinic for 3 months of UVB treatments. No fun. And a big waste of my time. 5 years without UVB–hurrah!
By next week my book "Make Your Bed" will be ready to hopefully entice a good literary agent to represent it. Fingers crossed. My dream is to attract a really good U.S. agent.
So, that was a long haul and I'm finally happy with the results. Editing is the key. I had a professor at UBC when doing my Masters in Creative Writing who used to say "cut 'til your fingers bleed". It was good advice. Trimming the fat makes all the difference.
The main character, Truman, has psoriasis. The protocol is there in detail. So it's fiction and non-fiction. There are dogs. And reincarnation. And survival kits for body, mind and spirit. A sort of antidote for all the craziness in our world right now.
I started this New Year with two Japanese traditions:
1. I meticulously cleaned every room in my apartment–one room per day starting on boxing day and ending on New Years Eve day.
2. On the first morning of 2020 I stood on the roof and watched the sun rise (and took photos). This is supposed to bring good luck. It bloody well better because I was partying until 2 a.m. the night before–ha!
May 2020 bring you all you could wish for and more. Peace.
Happiness. Clear skin. Prosperity.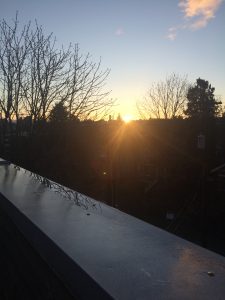 Sending you much love,
Dakota ♥️ and Lucky ♥️ and Charlie ♥️